Preset it and forget it! Save your search queries.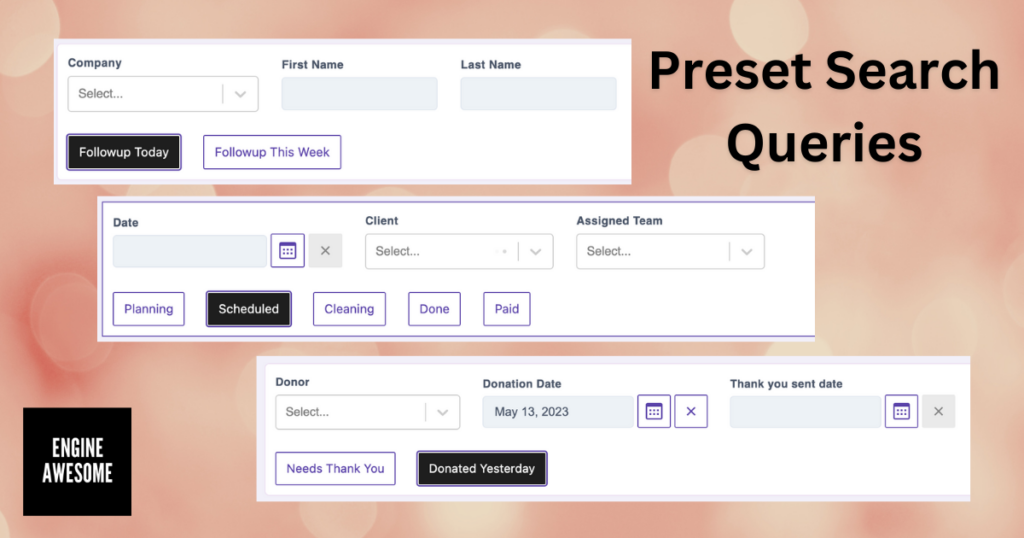 We are thrilled to announce an enhancement to one of your favorite features on Engine Awesome. Our customizable filter system has been a game-changer, helping you view and organize your data in ways that suit your needs. Taking it further, we've just rolled out a new feature to amplify your experience: Preset Filter Queries!
Preset Filter Queries are an intuitive feature that enables you to create, save, and reapply complex search filters with just a click. This means you no longer have to recreate the same filters whenever you need to sort or find specific data, saving you precious time and effort.
Like all features in Engine Awesome, Preset Filter Queries are super easy to build with our no-code builder. Choose our "Query Filter Preset block". Define your query with our menu system. Name and save. That's it!
If you frequently use specific sets of search parameters, you can now save these parameters as a preset. "Scheduled Jobs", Contacts to "Follow up" with, and "Open Invoices" are just one click away. The next time you need to use the same filters, simply select your saved preset, and voila! Your data is filtered exactly how you want it, without the need to re-enter the search parameters.
Preset filters are pretty awesome:
Saving Time: No more repeatedly inputting the same search criteria. Save it once; use it forever!
Promotes Consistency: Ensure the same search parameters are used every time, by your entire team, reducing the chance of errors or inconsistency.
Easy to Build: With a simple and intuitive interface, creating and applying presets is as easy as 1-2-3.
We believe this new feature will bring your productivity to new heights. As always, we are committed to delivering the best user experience possible and will continue to listen to your feedback and needs.
All of our application templates have been updated with Preset Filter Queries, so if you've been waiting to try one out, now's a great time.
We're excited to see what you build!