Google Calendar and Engine Awesome: The Ultimate Power Schedule!
Whether you're a business owner looking for better scheduling, job management, or you just want to optimize your workflow, our Google Calendar integration with Engine Awesome is the solution you've been searching for.
With this new feature, businesses can now easily create and schedule jobs directly in Engine Awesome, and then view them visually in Google Calendar. This means you can see your entire schedule at a glance, in a format you're already comfortable with.
Why use Google Calendar?
It's a tool that most of us are already familiar with. It's intuitive, widely used, and offers a visual representation of our schedules that's hard to beat. It comes with it's own mobile app, can integrate with your existing calendars, and it requires no training for your team.
But that's not all. One of the most exciting aspects of this integration is the two-way synchronization between Engine Awesome and Google Calendar. If you move or adjust jobs in Google Calendar, those changes will be reflected back in Engine Awesome. This ensures that your job management remains consistent and up-to-date across both platforms.
Can we use multiple calendars?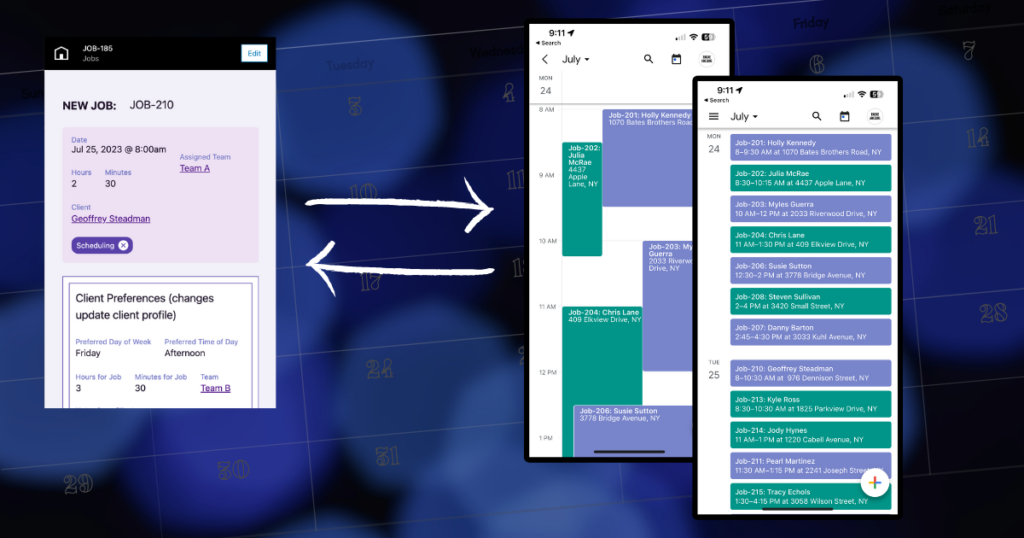 If your company has more than one team, each can have their own calendar, while you can see an overview of all teams. It's easy to create multiple calendars and have them sync with Engine Awesome.
How does it work?
Create and Schedule Jobs in Engine Awesome: Just like you always have, create your jobs in Engine Awesome. Include any and all information you need.
View in Google Calendar: Once your jobs are scheduled, they will automatically appear in your Google Calendar. You can view your entire schedule visually and make adjustments as needed.
Adjust in Google Calendar: Need to reschedule a job? No problem. Simply move the job to a new time slot in Google Calendar.
Sync Back to Engine Awesome: Any changes you make in Google Calendar are automatically updated in Engine Awesome. This ensures your job management is always accurate and up-to-date.
We're incredibly excited about this new feature and the potential it has to streamline your job scheduling process. As always, we're eager to hear your feedback. As this is a beta feature, your insights and experiences are invaluable in helping us refine and improve the functionality.
How can I get started?
Existing customers are already set up to use this integration. New customers should install one of our application templates, and then contact support to get set up. If you have any questions or need assistance, our support team is always here to help.
Thank you for being a part of the Engine Awesome community. We can't wait to see how you use this new feature to make your job scheduling more efficient and effective.
Stay tuned for more updates and improvements as we continue to make Engine Awesome even more awesome!